Home Prices Are Going Down
Home prices in the Phoenix Metro area are dropping.  In fact, in some neighborhoods all of the price gains from 2022 are gone.  Let's look at 5 data charts behind this trend to see what you can do as a seller or buyer to win in this market.
The Arizona Condo Market is Dropping
First, let's look at the resale condo market.  We look at the condo market first because condos are often the earliest real estate segment to experience market shifts.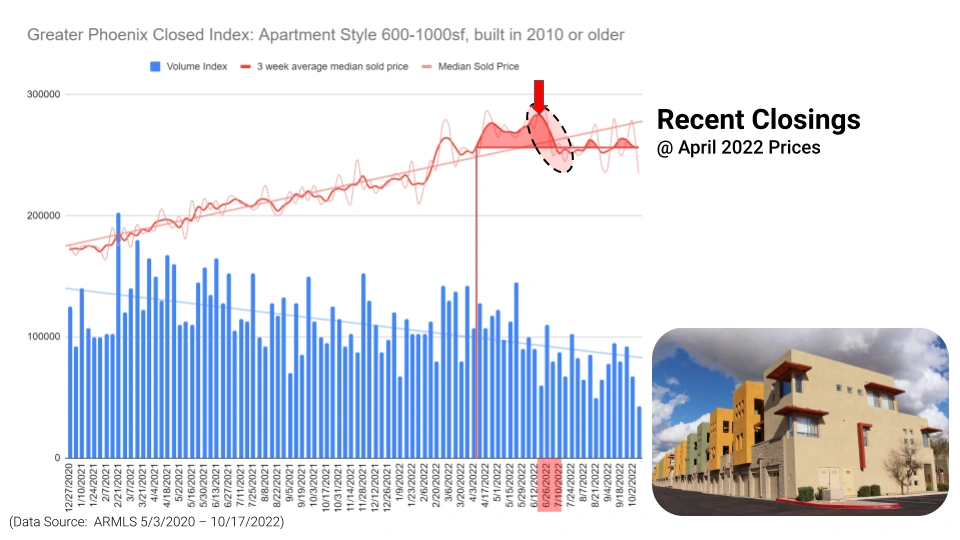 In late June, median resale condo prices, shown here as the dark red line, took a big leg down.  This jump downward wiped out several months of pricing gains and brought prices in line with levels last seen in the month of April.
Dropping Home Prices in Chandler Arizona
Second, let's look at the suburban single family market.  For our sample, we are going to look at Chandler Arizona.  Chandler is a mostly developed market with many desirable master planned communities with similarly styled homes.  It is typically one of the most stable markets in the metro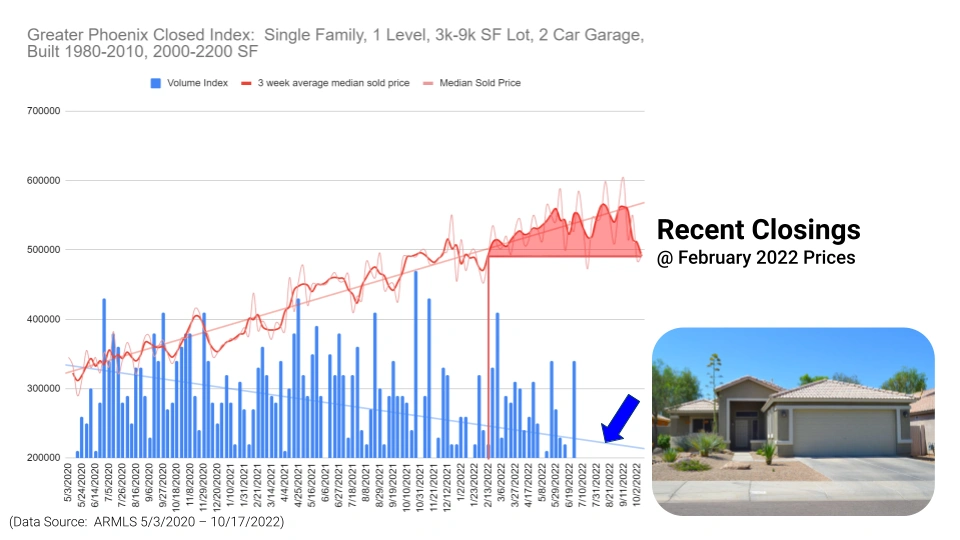 Stalling Single Family Home Sales
Closed prices for single level 2,000 square foot resale homes in Chandler Arizona slid in recent months and are now sitting at February prices.  This has vaporized about 6 months of price gains.  Beyond these price drops, sellers are also feeling the pain because this suburban market has fewer and fewer sales each week.  The blue bars show weekly sales volume and we can see that the number of sales is trending down sharply.
Home Prices Dropping In New Communities
Third, let's take a look at Phoenix's newest neighborhoods.  These are the new areas scattered around the edges of the Phoenix such as San Tan Valley, Buckeye and Maricopa.  For our example, we will pick Maricopa because it is busy with new construction activity in a concentrated area.  It is full of beautiful newer homes in master-planned communities.
2022 Maricopa Home Price Gains Gone
Compared to our look at condos and single family homes in Chandler, Maricopa is experiencing the most pain.  The median price of recent closings is decidedly in line with December 2021 prices.  This means that all of the 2022 price gains are gone.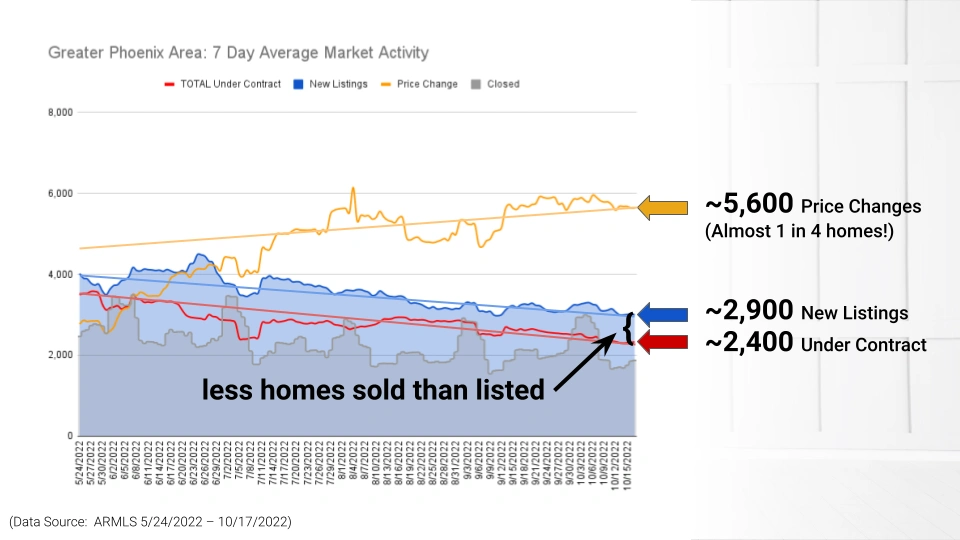 To see what's behind these price drops, our fourth chart shows us the average weekly activity in the market.  The Yellow line shows the number of weekly price drops.  We can see that this number has skyrocketed upward from around 3,000 price cuts per week in May to nearly 6,000 price cuts per week today.  At the same time, the blue line shows that less and less people are  putting their homes on the market each week.  But demand, shown as the red line, is also trending down hard. The result is that there are more homes coming onto the market each week than there are going under contract.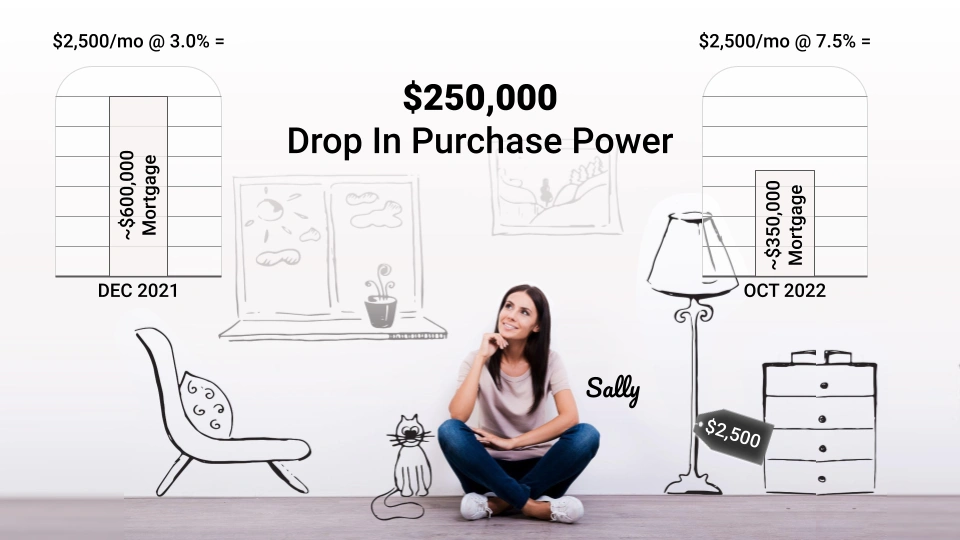 To see why home buyer demand is drying up, let's look at a possible homebuyer scenario.  Let's say a home shopper, Sally has enough income to qualify for a $2,500 per month mortgage payment. In December of 2021 when 30 year mortgage rates averaged around 3%, Sally might have qualified for a $600,000 mortgage. But today with mortgage rates averaging around 7 ½% Sally might only qualify for a $350,000 mortgage.  This is a whopping $250,000 drop in Sally's purchasing power.  Which means that Sally may not be able to qualify for the home she needs.
This has led to a lot of beautiful homes on the market that are selling slowly.  Homes are still selling, but they aren't getting bought up at the pace of 2021.  So what we are seeing is a lot more homes for sale than we did last year.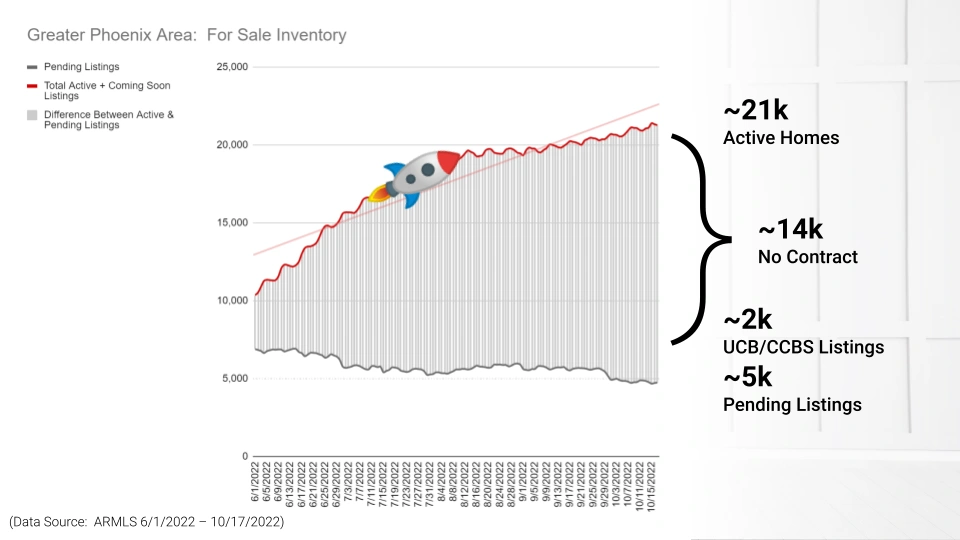 Real Estate Inventory Is Growing
In fact, there are about 21,000 homes available for sale in the greater Phoenix area today which is up from 10,000 homes available just 4 ½ months ago.  At the same time, there are about 5,000 pending listings and 2,000 listings accepting backup offers or offers with a buyer contingency.  This means that if the trend continues, there might be an epic 14,000 homes that don't get a sales contract over the next month.
Homes Are For Sale Everywhere
This has resulted in a lot of homes sitting on the market all over town.  While this gives buyers a lot more variety to shop from, it means that sellers are having to get competitive to sell their house.  It can take a lot more effort to stand out from the crowd.  We are seeing an increase  in marketing efforts such as quality listing photos, floor plans and open houses.  Home sellers are also having to work hard to get their homes ready for sale by making repairs and staging their homes.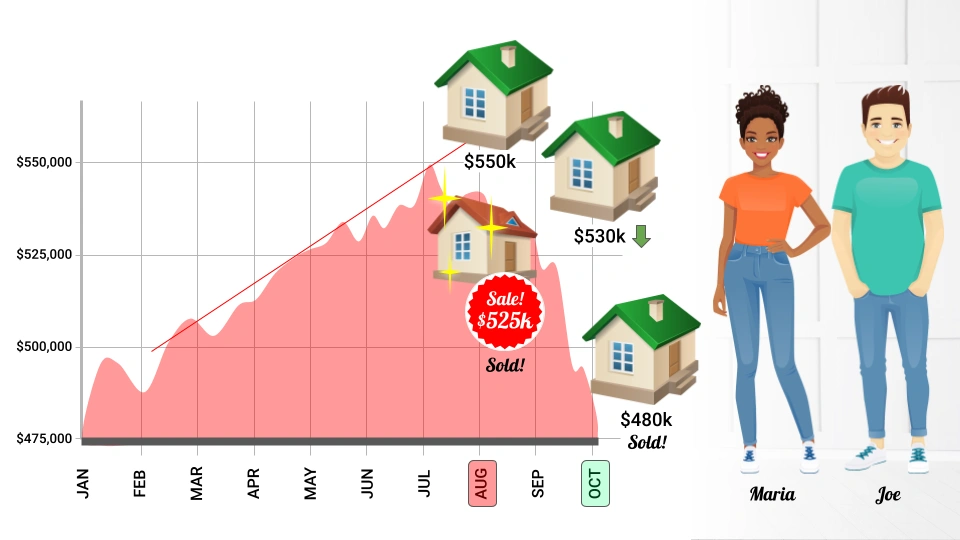 Selling Your Home For the Right Price
Let's take a look at a scenario that might play out in this current market.  As you can see by the red area of this graph, home prices have increased and then decreased all in the span of about 10 months.  The trend for the first about 6-7 months was increasing prices.  Let's say Joe here was watching this increase and decided to list his house in August at a value that assumed continued price increases.  But after sitting on the market for a month with no offers, Joe lowered his price.  But it still didn't sell.  So in October, Joe lowered his price significantly and finally got a contract to sell his house.  Another seller in Joe's neighborhood, Maria also listed her home for sale in August.  But she made repairs and got it looking sharp.  She also did a lot of research and picked a price that was realistic and that would be attractive to buyers.  She received two offers the first week and got her home under contract right away.  At the end of the story, even though Maria originally listed her home for less than Joe, she ended up with more money.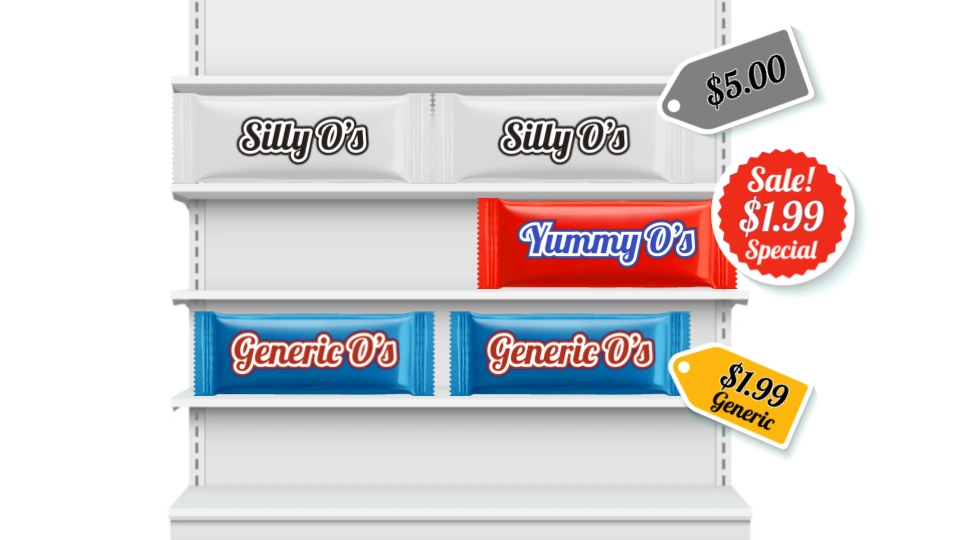 Understanding Homebuyers In A Down Market
To understand the psychology behind this trend of homes sitting on the market, let's pretend we are shopping for cookies at the grocery store. Typically we buy Generic O's cookies because they are the cheapest.  But today the name-brand cookies, Yummy O's are on sale for the same price as the generics.  People are grabbing these cookies and there is only one package left.  So that's the package we buy.  And we don't even stop to think about the Silly O's on the top shelf that haven't been on sale for weeks.  The on-sale Yummy O's are like the home sellers who are providing the cleanest house for the best price.  These are the sellers who are getting offers  in this market.
Homebuyers Have More Time To Shop
With many homes sitting on the market, buyers have more time to find a home that best fits their needs.  They are using tools like Crimegrade.org to weigh out the pros and cons of each neighborhood.  This might be a smart move right now because with uncertainty ahead, buyers may need to plan on keeping the home they buy today for at least 5 years, maybe more.
Buyers are also shopping their commute times again.  As remote work is losing some popularity, buyers are again placing more value on living closer to work and school.  And this trend is putting even greater pricing pressure on the new communities at the edges of Phoenix.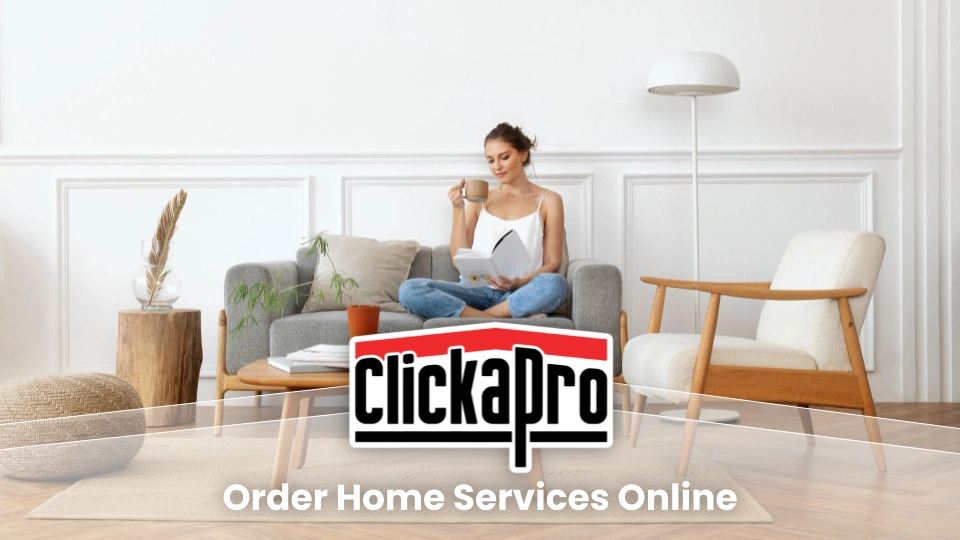 This market update is provided by Clickapro.  At Clickapro we are working to make it easier than ever before to order services for your home. We are glad you are here.  If you have any questions about the real estate market in the Phoenix Area, please be sure to ask it in the comments section below.